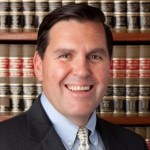 Born May 8, 1963 in Wahiawa, Hawaii.  Grew up in Yorktown, Virginia.  Graduated from the Virginia Military Institute with a B.A. in History in 1986.  Served on active duty in the U.S. Marine Corps as an infantry officer from 1986-1990 and in the reserves from 1990-1997.  Attained the rank of Major before being honorably discharged in 1997.  Graduated cum laude from St. Thomas University School of Law in 1994.  Active member of the American Bar Association, the American Association for Justice, the New York State Bar Association, the New York State Trial Lawyers Association and the Association of the Bar of the City of New York.  Serves on the Board of Directors for the Attorney's Information Exchange Group (AIEG).
Joined the Rheingold firm in 1994 and became a partner in the firm in 2001.  Practices exclusively in the area of product liability law, primarily in the field automobile crashworthiness.  Has published numerous articles and lectured extensively at the local, state and national levels.   Was a member of the plaintiff's trial team for the national Albuterol MDL class action case which resulted in a substantial settlement during trial.  Litigated one of the first air bag product liability cases in the country to a successful conclusion.  Has successfully handled numerous automobile crashworthiness and drug products cases, including numerous heavy truck post-collision fuel fed fire cases, around the country and has obtained many seven figure verdicts and settlements.  Represented the widow of a 9/11 victim pro bono as part of AAJ's "Trial Lawyers' Care" initiative.
Married with two teenage sons.  Enjoys reading, playing golf and fly-fishing.

Bar Admissions
Education
Fraternities
Honors and Awards
Professional Associations and Memberships
Published Works
Previous Speaking Engagements
Leadership/Community Involvement
Past Employment Positions
Birth Location