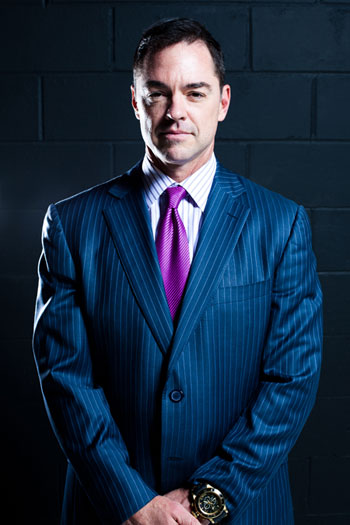 John Gomez founded the firm alone in 2005. He acts today as President and Lead Trial Attorney. From humble beginnings, he attended three separate San Diego public high schools and Grossmont Junior College before graduating from the Nation's top ranked law school, Yale University, in 1993. In between,
John was named an Academic All American football player for the University of San Diego's Toreros. He clerked for a federal judge, worked for the international law firm of Latham & Watkins and served the
United States as an Assistant United States Attorney until becoming a trial lawyer for people in 2000.Since that time, he has established himself as one of California's most recognized and accomplished trial lawyers. Lawyers USA named him the national Lawyer of the Year in 2010. He has twice been named San Diego's Trial Lawyer of the Year. The Consumer Attorneys of San Diego have awarded him an unprecedented nine separate Outstanding Trial Lawyer Awards. He was named a 2011 Top 100 California Attorney overall by the Los Angeles Daily Journal, a Top 10 San Diego attorney overall by San Diego Metropolitan Magazine, and was voted by peers as a top 10 San Diego Super Lawyer in 2012. He was featured as the subject of the cover story in that 2012 publication.
Best Lawyers in America named him the 2011 and 2012 Plaintiffs Products Liability Attorney of the Year. Avvo rates him a 10.0 out of 10.0 and he has been voted by his peers as a top ten San Diego litigator in three separate fields: Personal Injury, Insurance and Corporate Litigation. Since 2000, he has recovered over $250 million in settlements and verdicts for his clients with more than 50 separate recoveries of one million dollars or more. Perhaps most notably, John has obtained 4 separate jury verdicts of one
million dollars or more in which the defendant offered absolutely nothing to settle prior to trial. John is a proud member of the American Board of Trial Advocates.
He cares most about his family, his clients, and his community. In 2011, he attended and graduated from Gerry Spence's acclaimed Trial Lawyers College on Thunderhead Ranch in Dubois, Wyoming. The experience confirmed what he had known all along: That the single most important element of being a lawyer for people is to know and love your clients completely. John does that in every single one of his cases. He continues his work with the Trial Lawyers College regularly.
He is as known for his work in the community as he is for his work in the courtroom. John believes that trial lawyers have an obligation to make their communities a better place – both through litigation and community service. He practices what he preaches. He commits enormous time and resources to a variety of charitable causes involving kids at risk, foster children, Latino causes, the prevention of drunk and distracted driving, local hospitals and supporting services and the March of Dimes. In recognition of his commitment to social causes, the San Diego County Bar Association recognized him with its 2012 "Community Service" award. Of all the plaques he has received, John is most proud of that one.
John is also a leader in the legal community. He is a former Board member of both the San Diego County Bar Association and the San Diego Volunteer Lawyers Program. He was elected as the 2012 President for the almost 1000 member Consumer Attorneys of San Diego.
Bar Admissions
Education
Fraternities
Honors and Awards
Professional Associations and Memberships
Published Works
Previous Speaking Engagements
Leadership/Community Involvement
Past Employment Positions
Birth Location